Fantasy Football Name Suggestions from Awesome Sports Logos
This is a huge draft week for Fantasy Football lovers all over the world. Millions are studying NFL stats and they are also keeping their trigger finger on the minimize button in case the boss walks into the room. Because you are spending so much time figuring out who you will draft, we at Awesome Sports Logos thought we'd help by putting together a bunch of name suggestions for your Fantasy Football team.
Iliza Schlesinger
is an awesome comic. Here are some of her suggestions:
Brian More Cushing for the Pushing (Named after Texans LB Brian Cushing)
Julius Sausage and Peppers (Named after Bears DE Julius Peppers)
There's Something about Demaryius Thomas (Play on words on Something about Mary)

From the site
Sports Pickle
:
My Jim Schwartz Are Dirty (Named after Lions head coach Jim Schwartz)
Dez Dispensers (Dez Bryant Cowboys)
Weeden My Brownies (Named after Brandon Weeden Browns QB)

From
Fansided.com
:
Show me your TD's (I think the name says it all)
Manning of Steel (Named after Peyton or Eli or heck even Archie Manning)
Joe Buck Yourself (Named after Fox NFL announcer Joe Buck)

So of course at Awesome Sports Logos, we had to get in the act. Here's a couple that we came up with.
Brady's Mistress (For you female Fantasy Football players, a great play off of Tom Brady)
The 3rd McCourty (Named after the McCourty twins, Jason and Devin). Here's a picture of Jason wearing our Las Vegas Snake Eyes awesome t-shirt at Super Bowl's radio row.
Watt the Faulk? (Whoa, we went deep on ya using a potential future Hall of Famer in JJ Watt with current Hall of Famer Marshall Faulk).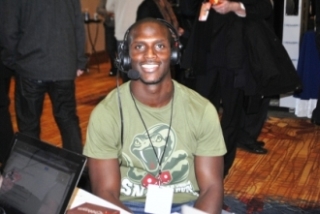 We've actually received a few emails asking us permission to use our t-shirt names for their team name? Of course you can! The
Cocksville Blockers
and the
Las Vegas Hookers
are awesome names. Just be sure to pick up one of our funny sports t-shirts so that you can send us a picture with your trophy, the wad of cash you won and of course wearing your favorite t-shirt!
Good luck in your drafts everyone!
Gavin Spittle
Founder, Logo Lover, T-shirt Wearer
Awesome Sports Logos
Posted in Football by Gavin on 8/25/2013 at 10:27:02 am.