What a Great Sports Run for the Bay Area
Have you ever been part of a sports run? First we should probably explain what it is because it doesn't happen that often. A sports run is where every team in the city you live in is at the top of their game. They don't have to win the title but they are certainly a serious contender. When your city is on a sports run, uniforms are worn to work. Flags are flying from cars. Water cooler talk is all about the teams. By the way, does anybody still talk by the water cooler?
The Bay Area is currently on this epic run. The San Francisco 49'ers have had two amazing years under Jim Harbaugh. Last year, they lost to the Giants in the NFC championship and this year a trip to the Super Bowl. The San Francisco Giants took home the World Series trophy this past year and in 2010. The Stanford Cardinal won the Rose Bowl for the first time since 1971. The Oakland A's came out of nowhere to win the American League West this year, the first time that's happened since 2006. And last but not least, you know your area is on an epic sports run when the Golden State Warriors are off to their best start in 21 years. I'm jealous San Francisco, you sure have a lot of sports to talk about and celebrate. I'm sure if the Bay Area had a hockey team, they'd be.. What's that, they do, and it's the San Jose Sharks who are off to an undefeated 4 and 0 start? Wow, Bay Area, now I'm really jealous!
Lost in the shuffle is a new sports team just released by Awesome Sports Logos called the San Francisco Swallows. This awesome t-shirt has great history behind it. The White Swallow was a clipper ship built in 1853 to transport cargo from New York and Boston to San Francisco. In 1865, mutiny on the ship would make the clipper ship famous. The crew claimed harsh working conditions when put on trial and were acquitted. For many years after that, the name "White Swallow" was famous in northern California legal circles when the subject of harsh working conditions was brought up. From this history, the San Francisco Swallows were born. It's true, I saw it on the internet and everything on the internet is true right? With great colors and a cool t-shirt that is so soft that you can clean your sunglasses, adding a San Francisco Swallows funny sports t-shirt to your collection is simply awesome!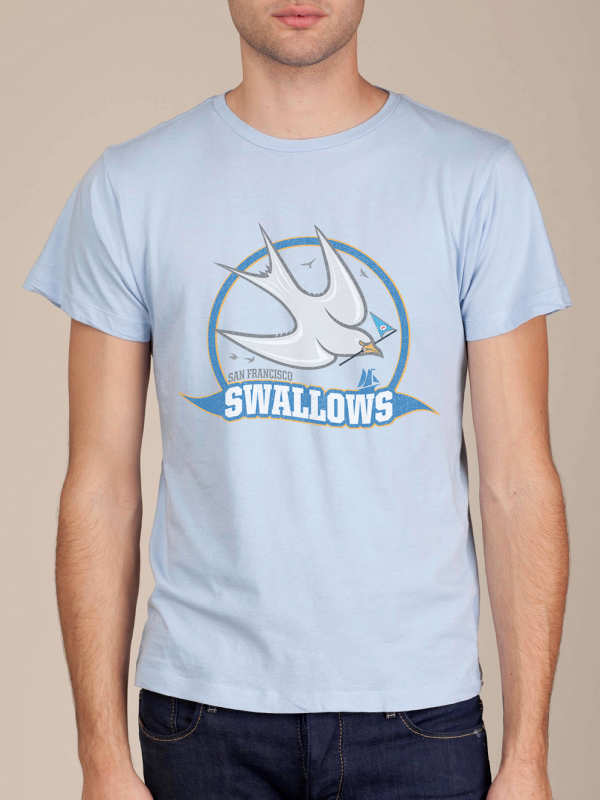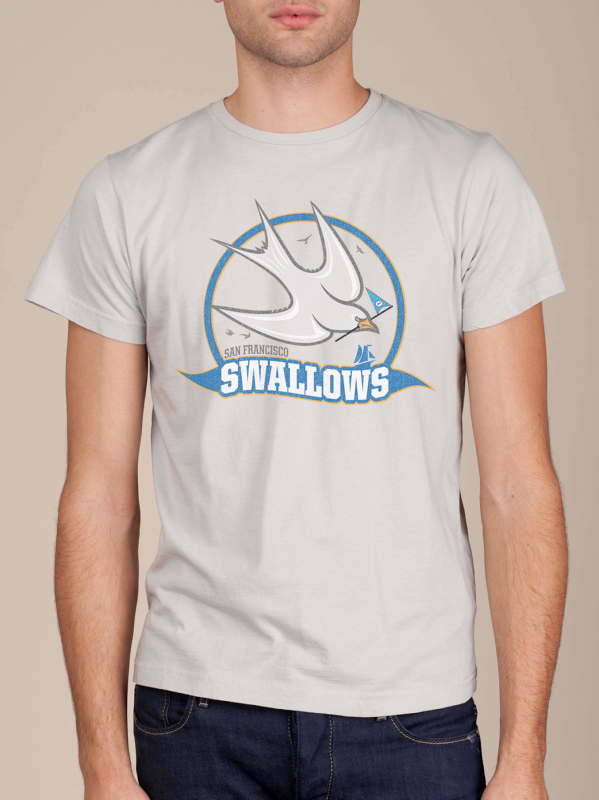 I don't expect the Swallows to be mentioned on sports talk radio anytime soon. Clearly it's because of the great sports run in the Bay Area. Nonetheless, I'd love to hear about your sports run. There's nothing like it.
Thanks as always for reading and Go Swallows!!
Gavin Spittle
Founder, Logo Lover, T-shirt Wearer
www.awesomesportslogos.com
Posted in San Francisco Sports T-Shirts by Gavin on 1/27/2013 at 7:40:56 am.