NHL Fans, Here's Something to Smile About
Still no progress with the NHL lockout. The League, the Players Association and Federal Mediators met today and walked away without a deal. I say both sides stay in the same room until a deal is worked out. This isn't like the NFL Lockout. Fans were freaking out at the possibility of losing football on Sundays for a year. Meanwhile, the NHL Lockout is unfortunately an afterthought. Josh Hamilton signing with the Angels, and even Tom Watson becoming the captain of the next U.S Ryder Cup team took higher headlines than the lockout. One loyal L.A. fan Steve Chase still has that passion. He's started a "Just Drop It" campaign which urges fans to boycott one game for every game that is cancelled after December 21st. That includes buying tickets, watching it on TV or any kind of interaction. Here's his video explaining "Just Drop It".

We're hockey fans here at Awesome Sports Logos. We are former Dallas Stars season ticket holders and current Aeros supporters in the AHL because we like many agree that in person, hockey is the best sport to watch. It's even to the point where taking sides is exhausting. The past shows that fans will come back and I'm sure in the Original Six cities, that's likely the case. Other cities though will struggle. Dallas, Anaheim, and the Carolina Panthers which play their games in Raleigh won't be as fortunate.
Enough about the lockout because it's time to feature one of the best sports t-shirts out there. This hockey team doesn't care about lockouts, this team wants to play. We present our awesome t-shirt, the Portland TreeHuggers.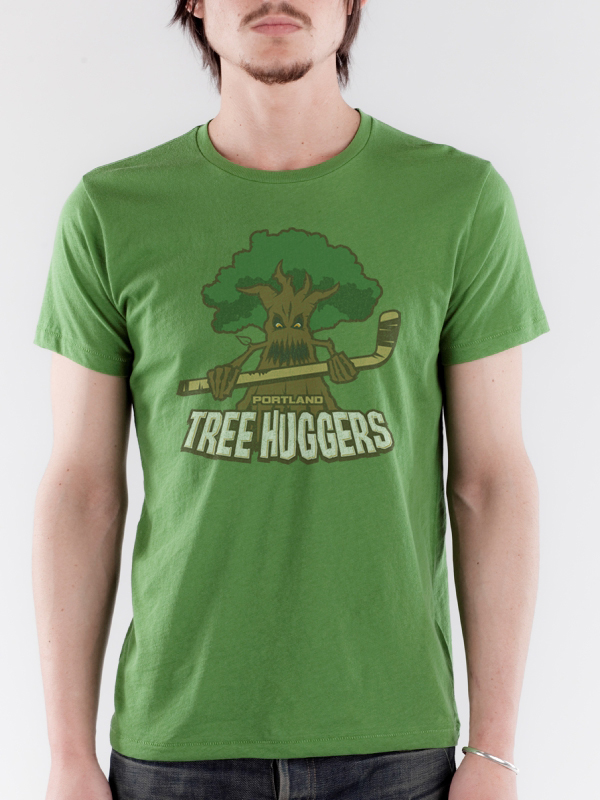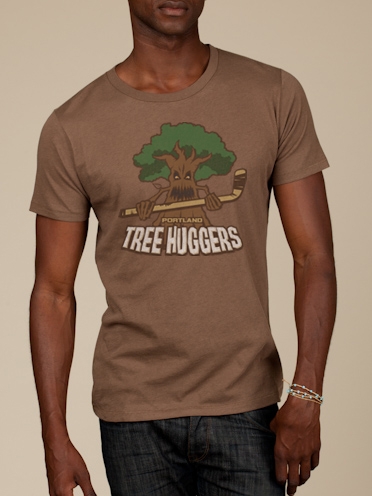 This team doesn't care about revenue sharing, this team just wants to hit the ice and drop the gloves. I certainly wouldn't mess with this huge piece of bark! This Portland t-shirt was like that 3rd child parents' end of loving but didn't actually plan on having. In other words, it wasn't' meant to happen as an Awesome Sports Logo. Picture this logo with a weed whacker instead of a hockey stick. That's right: this logo was actually a landscaping logo that my awesome designer was looking to sell. I'm so glad he pitched me on this because I love this logo. Once I saw it, I saw the Portland TreeHuggers and as always, my designer made some tweaks and hit the jackpot. It reminds me of a tree that would chase the Mystery Machine in a Scooby Doo episode. Portland is a must visit city. The Northwest city has tremendous character. Trailblazers and TreeHuggers, those sound like two great teams in the city of Portland.
We love this Portland TreeHuggers funny t-shirt and we think that it's the perfect holiday stocking stuffer. C'mon give that hockey fan something to smile about. Lord knows we need it!
Happy Holidays
Gavin Spittle
Founder, T-shirt Wearer, Logo Lover
www.awesomesportslogos.com
Posted in Hockey by Gavin on 12/14/2012 at 8:11:44 am.