The NFL Monster is Here and Baseball Will Be Hurt Most
If the world were made for hardcore sports fans, our year would move seamlessly from one season to the next. We'd never have to pledge allegiance to one viewing option, with the next great run always on the horizon. To quote the eternal Austin Powers, "it's just not in the cards now is it?" Unfortunately, our pro sports schedules overlap, and that means something has to get the nix. Fall is just around the corner, and in an NFL universe, baseball takes the backseat.
No self-respecting fan wants to admit it, but the annual calm before the playoff storm is about to be in full effect. Science says that the NFL has the most watched events, and baseball just doesn't have enough to offer before the World Series run. There are numerous hypotheses for this exodus, but I'll offer my best attempt at the most glaring.
Even with last year's playoff expansion, MLB's playoff pool is too small. With the exception a few close division races, we know who's going to be there in October by September 1st. As the herd thins, even committed baseball fans become unenthused. Your market's marginal baseball fan is about to get a guilt-free pass to head toward the hash marks.
NFL games mean more. Baseball's opening day may be a widely honored tradition, but the town's first NFL game brings more eyes. Opening night in the NFL accounts for 1/16 of the season compared to MLB's 1/162. Pretty staggering. There's a good chance that witnessing the first few games of the NFL season could mean having a complete idea of what each team could and could not become by season's end. Why not make that investment while the MLB bloats itself with less impactful results 4 nights a week?
The NFL doesn't discriminate. With the television fanfare that surrounds Sunday, Monday and Thursday night games alone, sports fans are welcomed to watch teams outside their own. Players you loved who played at your college are all over the NFL, and just about every game has an impact on your fantasy week. NFL division races are tighter than baseball's by design. How many baseball fans do you know that watch every MLB game that hits their TV? It's easier to stay involved in the NFL season, with your team or another.
Tired of choosing allegiances every few months? Tire no more. Awesome Sports Logos has apparel to keep your season alive regardless of if it's in play. More importantly, many of our Awesome T-Shirts are non-sport specific, so you can mold your own legend, and season. No matter what time of year, the Cocksville Blockers awesome t-shirts are always in season.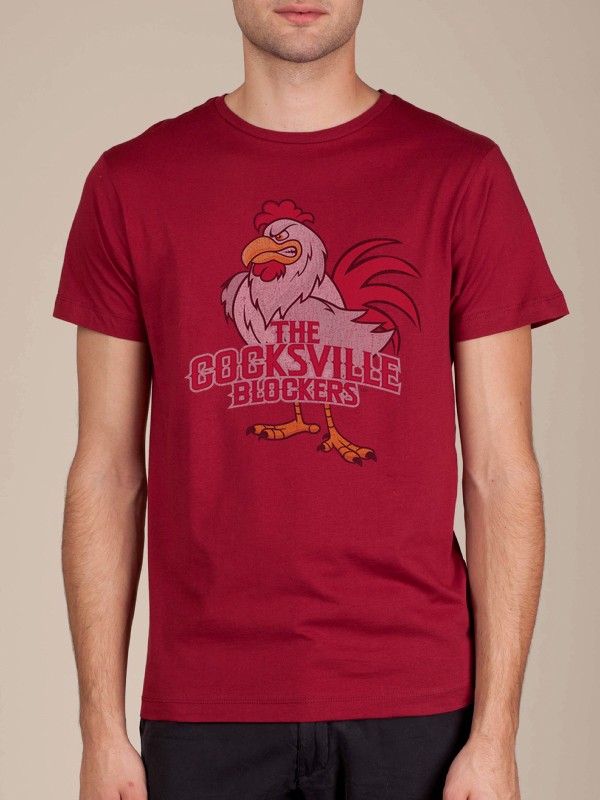 Thanks for reading and supporting Awesome Sports Logos!
Jake Springer
Awesome Sports Logos Columnist
Posted in Baseball by Gavin on 9/3/2013 at 9:58:24 am.