Can LeBron Really Help Johnny Manziel
Johnny Manziel's services as a brand and an athlete are now for sale. To the surprise of no one, Sir Football announced his eligibility for the 2014 draft last week. Much sexier news came when it was revealed that Manziel would be represented by LeBron James' marketing company headed by Maverick Carter.
Side Note: How about the news that the two coolest names in athlete entourages will be under the same roof, in Carter and Uncle Nate?
It's no wonder that James and Manziel would be friends, or even partners. Athletes support each other heavily and loudly these days, most of the time without seeing each other in person (thanks again Twitter). LeBron says he's willing to give Johnny advice, and is "happy to help" the firecracker.
But how much help can King James really provide for young Johnny? Sure, LeBron's been under a microscope from a young age, overcome some poor "decisions", and of course, met and exceeded expectations as the class of his sport. At first glance, these reference points seem to beget the opportunity for an effective LeBron/Manziel stewardship. But I see these athletes at very opposite ends of the "golden boy" spectrum. If the following concerns have any bearing on Manziel's development under LeBron, it may not be smooth sailing for the new couple.
All professional athletes are a product of their upbringing. LeBron and Manziel have reached the professional world by way of incredibly different paths. While both were faced with the temptations of fame at an early age, Lebron beat the distractions. It's as if, molded by a tough childhood, Lebron was acutely aware of what he had to gain and lose. Johnny's privileged background and limited restraint make for a much uglier baby than Pre-Draft LeBron James. When the two get together to rehash their rise to fame, they will have no common ground. It'll be hard to get to the "Let give you some advice son" part of the conversation if they can't get past "Where are you from?"
LeBron and Manziel have both dealt with infamy, but on completely different levels. LeBron's brush with villainy was misguided and insensitive. Johnny's transgressions with the NCAA, twitter, and America's moral compass are both of those things…plus… pompous, ignorant, spoiled, and possibly illegal. LeBron James has never been photographed in a compromising position (unless you count not covering his receding hairline). Johnny Manziel is the poster-child for compromising photos. All it took James to overcome his mistake was winning. He didn't have to become a better person; he was already a good guy. He didn't even have to apologize; because what he did wasn't heinous. Lebron hasn't the first clue how to teach Manziel to grow up.
There's a clear hole in my argument. LeBron can help Manziel by leading by example. LeBron can keep being himself, hoping that Johnny takes notice and takes action. LeBron said himself that he would give Manziel his advice, "if he's willing to listen." I didn't hear the tone in James' voice, but that's a glaring distinction. Johnny Football doesn't have a track record of listening to anyone (except for Drake, he listens to his music). This kid is so talented, I'm not sure he's ever had to listen to a coach. LeBron is hoping for an apt pupil, but Johnny doesn't fit the bill.
Don't get me wrong, I'm rooting for Johnny Football. I hope he's everything on the field that so many college freaks were supposed to be. Manziel may take the NFL by storm, but it won't be because LeBron James taught him how to be a man.
Thanks as always for reading. If you dig our blogs then you can support us by proudly wearing an Awesome Sports Logos t-shirt. Speaking of King James, he hails from Akron, Ohio home of our funny t-shirt, the Akron Rubbers. We included pics to put a smile on your face. A man is nothing without his Rubbers, Akron Rubbers that is!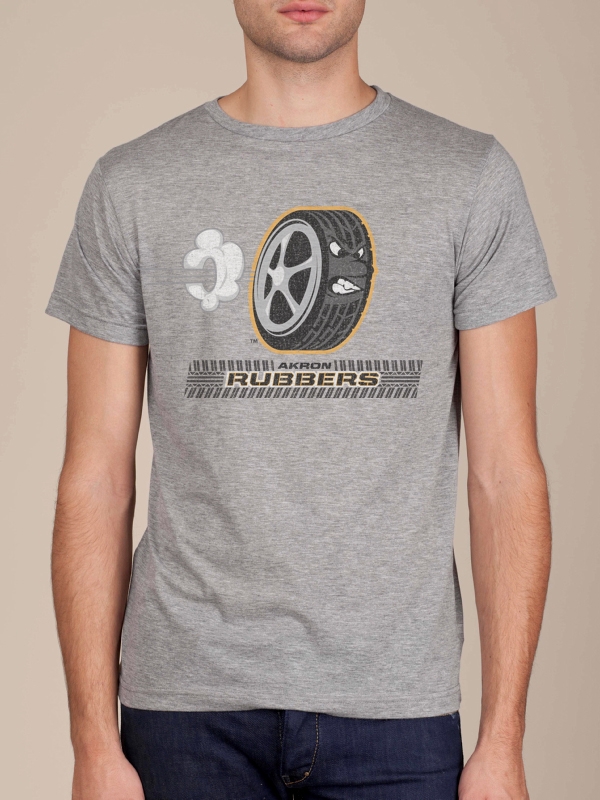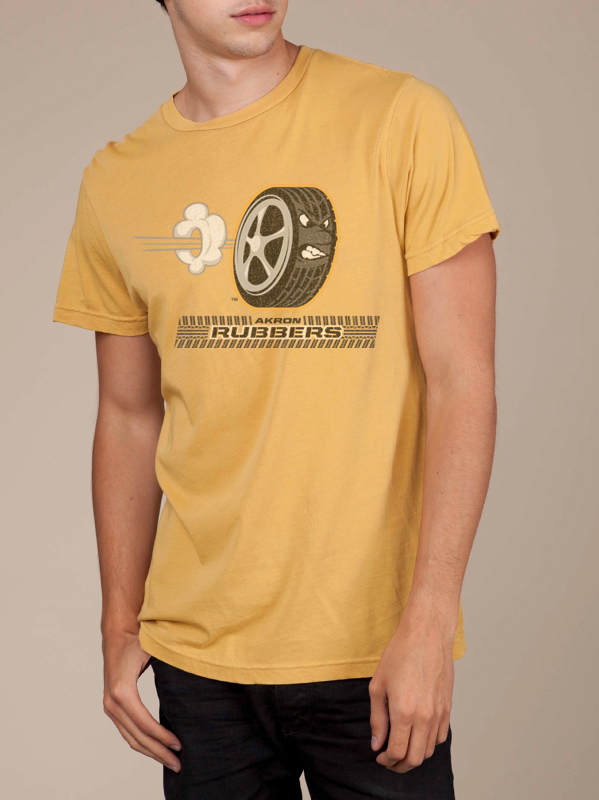 Thanks again for reading,
Awesome Sports Logos columnist
Posted in Awesome Sports Logos by Gavin on 1/13/2014 at 9:06:12 pm.