Awesome Sports Logos Blog
There are a lot of articles on Google about favorite College Sports Logos. Many are some of the top branded logos in all of sports like the Longhorn from University of Texas or the Fighting Irish of Notre Dame.
You don't see many articles featuring those unique college sports logos that are not a Tiger or a Panther. Today, we throw our Awesome Sports Logos Spotlight on some college sports logos that you may have never seen before. They are unique with some cool back stories and that's right up our alley in the logo world.
Scottsdale Community College Fighting Artichokes
This is awesome. Even the direct link to their athletic page is creative with gochokes.com. Here is the reason for the name according to the Community College website:
"Born during a period of student unrest in the early 1970s, Artie the Artichoke was adopted as the school's mascot to express a difference of opinion concerning budget priorities. Originally intended to be a source of embarrassment, Artie has been embraced by students, athletes, staff, and the community as a beloved character."
One other interesting aspect about Scottsdale Community College is that it's the only public community college located on Native American land.
UC Santa Cruz Banana Slugs
Once again the students win the battle on naming the mascot. According to the schools site, the Chancellor of the University needed a mascot name when athletics went from intramural to NCAA Division III. He wanted Sea Lions. A Sea Lion was even painted at center court for the hoops team. The students wouldn't relent, as they loved their adopted Banana Slugs name. By the way, what is a Banana Slug? Here you go.
After years of persuasion, Banana Slugs became the official name. Go Slugs!
Concordia College Cobbers
Who needs a Lion or Tiger mascot when you have a ferocious Corn on the Cobb? The Moorhead Minnesota college spells out the mascot history on it's official website.
"Another Moorhead College, Hope Academy, founded by Swedish immigrants, was Concordia's first rival. While their school was located in the city proper, Concordia was "out in the country," surrounded by farmland. So the urbanite Hope students derisively called the predominately Norwegian farm boys from Concordia "corncobs."
Campbell University Fighting Camels
Here is the explanation from the University website gocamels.com.
"According to historian J. Winston Pearce, author of "Campbell College, Big Miracle in Little Buies Creek," the nickname's origin perhaps stretches back to the turn of the century when all but one of the school's original buildings were destroyed by fire. In the aftermath, Z.T. Kivett visited the school's founder and president, Dr. James Archibald Campbell, at his residence. As Dr. Campbell bemoaned the fate of the institution he had worked 13 years to build, Mr. Kivett encouraged him, "Your name's Campbell; then get a hump on you! We've got work to do." Dr. Campbell thought that Mr. Kivett said, "You're a camel, get a hump on you." Hence the nomadic nickname.
I love the explanation and I love the mascot. I also love how they get creative in their videos.
How can you not root for Campbell. Go Camels!
At Awesome Sports Logos, we have some unique objects that you wouldn't expect to see as a sports logo. A perfect example is the Arizona Pricks.
You don't see many cactus sports logos in fact, we don't know of any others. The Saguaro Cactus is native to the Arizona desert and Futbol or Soccer is beloved in this state so this logo fits right in. The cactus is conveniently located between to soccer balls. Go Pricks!
The Tequila Worms
I couldn't believe that a team from Tequila Mexico didn't call themselves the Worms. You don't see many worms in Tequila bottles anymore. Many of you have said that you've seen them but after five or six glasses, you begin to see a lot of things. If you love soccer or futbol, this is the t-shirt for you. Go Worms!
Thanks so much for reading about unique sports logos. I love the creativity of these schools and how they embrace their great names and logos. A reminder that if you like our logos, the best way to get our super soft t-shirts at a great price with free shipping is by joining our t-shirt of the month club. It's awesome!
Gavin Spittle
Founder, Logo Lover, T-shirt Fanatic
Awesome Sports Logos
Posted in college by Gavin on 2/12/2017 at 10:19:40 pm.
We've taken a look at logos from so many different angles but not yet concerning the intimidation factor. This simple idea was inspired by Awesome Sports Logos masterpieces like the 'Brooklyn Leg Breakers' and, maybe this is just me, but the ferocity of the 'Lexington Studs,' too. Alas, the 5x5: Top 5 intimidating logos from the 5 big entities (NFL, MLB/MiLB, NBA, NHL, and NCAA). As always, feel free to add your flare to your own list...
NFL
5. Tampa Bay Buccaneers: No, a flag is not intimidating, but I just saw Captain Phillips for a second time and to think some frail "pirate" can cause that much havoc is kind of scary to me.
4. Chicago Bears: There is something about a bear...And that defense...Cringe
3. Carolina Panthers: This isn't just any Panther, this is a gosh darn fierce cat. It looks like it is ready to bite.
2. New England Patriots: This logo looks like a robotic, determined sonuva gun. It doesn't help that Bill Belicheck doesn't smile.
1. Oakland Raiders: Whether it is the black hole or NWA, this is unequivocally the most intimidating NFL logo. From the aforementioned association to the color scheme to how scary their lack of success has been, it all ties together to form intimidation.
MLB/MiLB
5. Kannapolis Intimidators: The personified 'K' is somewhat of a scare. but as a salute to the late Dale Earnhardt and to the name itself, how can you not include them?
4. Pittsburgh Pirates: Raise the Jolly Roger all you want, this ship is headed to a island of horror. Again, there is something about pirates that just get me.
3. Fort Wayne Tin Caps: It isn't often that a fruit can intimidate you but this is a violent red ball of fire. With some helmeted body armor and sharp teeth, this apple might bite you if you don't bite it first.
2. El Paso Chihuahuas: Cute and cuddly or straight up ferocious? The shock of a chihuahua looking for blood ups the ante.
1. Eugene Emeralds: This tree-blooded forest monster is eerily unknown to me. He's hurling a tree in one depiction so how big is this guy?
NBA
5. Minnesota Timberwolves: Hoops logos aren't too scary, to be honest. This guy looks out for blood, though.
4. Atlanta Hawks: But the talons...
3. Boston Celtics: The leprechaun looks scary and cunning. Some people have a fear of clowns, others have a hesitancy of leprechauns.
2. Golden State Warriors: He looks like some stretchy, super muscular, super hero. I just can't tell if he is a good guy or a bad guy...
1. Chicago Bulls: Tough. Stubborn. Snorting smoke. Simple.
NHL
5. Anaheim Ducks: I still can't get the old school, masked quacker logo out of my head. Either way, have you ever had a duck waddle towards you?
4. Minnesota Wild: The camouflaged beast makes this a little trickier because the clandestine nature of this depiction adds a little fuel to the fire.
3. Florida Panthers: The real question is to ask which is more intimidating: Florida or Carolina's panther?
2. Nashville Predators: Because it is a predator and I might be its prey.
1. Ottawa Senators: A gladiator looking to fight? No thanks!
Other
5. Florida Gators: Maybe its a friendly gator, but anything that quick and that strong with that many teeth can only be friendly with an asterisk.
4. Butler Bulldogs: The real life mascot is so cute, though...
3. Missouri Tigers: It looks like it is dashing through the jungle...
2. Duke Blue Devils: The mascot looks creepy like he's up to something. Even if he's not, he's a devil and nothing ever works out to your advantage when you hang around with a devil.
1. TCU Horned Frogs: I don't think this is the kind of Frog that you want to chase after and pick up like when we were kids.

Here's another Awesome Sports Logo that is intimidating. The Caimanes de Rio Abajo is in the Panamanian Basketball League. Even though there is no proof that any Caimanes in the rivers of Rio Abajo exist, the locals say they have seen them. That's good enough for me. This is one of the many real

Panamanian Basketball League t-shirts
that Awesome Sports Logos offers.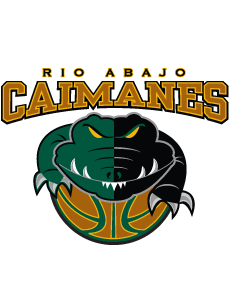 Thanks as always for reading
Awesome Sports Logos Columnist
hoo
Posted in Awesome Sports Logos by Gavin on 5/26/2014 at 2:35:38 pm.