Awesome Sports Logos Blog
January 17th is National Bootlegger's Day! Yes, I promise this is a real thing!
When Prohibition began in the United States, on January 17, 1920, many people across the nation stepped in to take matters upon themselves. People started brewing their own alcohol, and others started transporting the illegal to anyone who would buy it. This was all in an attempt to make a large profit. Some folks didn't even care about the money. Some felt it was wrong for the government to take away their alcohol.
Beer, whiskey, wine. People wanted it. People needed it. Someone had to give the citizens what they wanted. Someone had to brew it up, and deliver it, under the cover of night. Several precautions were taken to avoid police, federal agents, and any person that would rat them out. A new crop of people came into existence. Some of these folks were caught, and a lot of them were able to get away with it. These people would eventually be known as bootleggers.
It is said that the term "bootlegging" began during the Civil War. Soldiers would sneak liquor into their camps by hiding pint bottles in the boots underneath their trousers. Parts of Tennessee became famous for bootlegging. In fact, Johnson City Tennessee was known as a hideout and a stopover point for Al Capone. Prohibition was lifted in 1933 and Tennessee Whiskey has been flourishing ever since.
In honor of these people, considered heroes in their era, we encourage all of you to show them support, on their day of remembrance. What better way to show your support for National Bootlegger's Day, than our awesome, super soft Nashville Bootleggers t-shirt.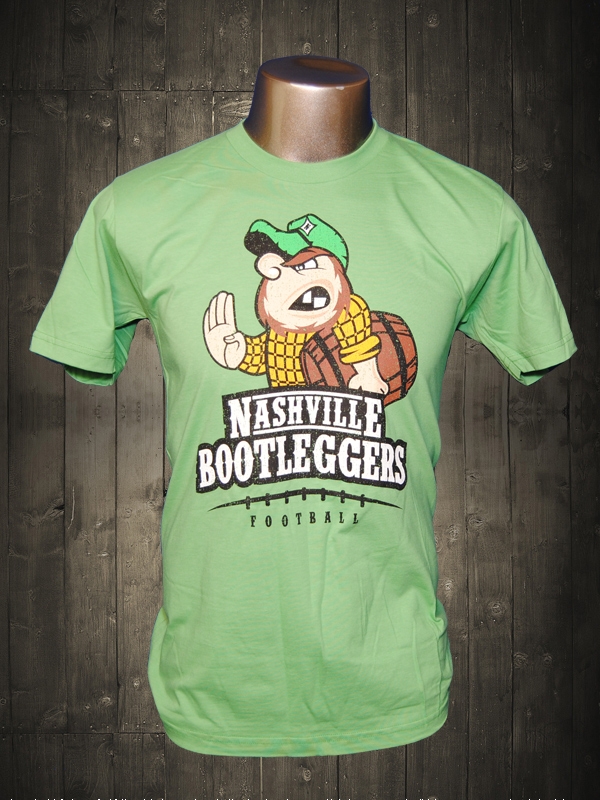 Thanks for reading and supporting us.
Awesome Sports Logos Columnist
Posted in Bootleggers by Gavin on 1/12/2016 at 7:34:17 pm.